Hello all of my crafting friends ~ I know that it has been awhile but I am back and ready to have some fun.
I have a new "craft world" I moved from the high desert in New Mexico to now living on an island in Florida and loving it.  I really forgot how much I love the ocean.  The sound of the waves is so calming and also gives you time to reflect on what is really important in ones life.  Well at least that is what it has done for me.
Anyway, the moving of the old craft studio to the new one has been very exciting.  When I was packing up the old studio, I found things that I forgot that I had or didn't even know that I had to things that I knew was time to give away.  My girlfriend who is also very crafty works in a large company with alot of crafty people so I gave her scrapbooking magazines, card making magazines and even hard cover books of different kinds of crafts that I knew that I would not need and would be of help to some other crafter.
I do have to say that being organized really helped alot.  And also having the white cubes scrapbook organizers/furniture, are the best for having to change the shape and size of each work station to accommodate a new space.  It took a couple of moving things to different walls but I think I figured it out (for now at least)
I made a workstation just for my Cricut Expression, Gypsy and accessories, and when the rest of my cubes are delivered I will do the same for my Cuttlebug and all of the accessories that go with it such as my embossing folders.  I also have some of my rubber stamp ink pads on the carousel from Stampin' Up and as you can see the base for this Cricut workstation is storage containers with drawers  for some of my rubber stamps and rubber stamp supplies.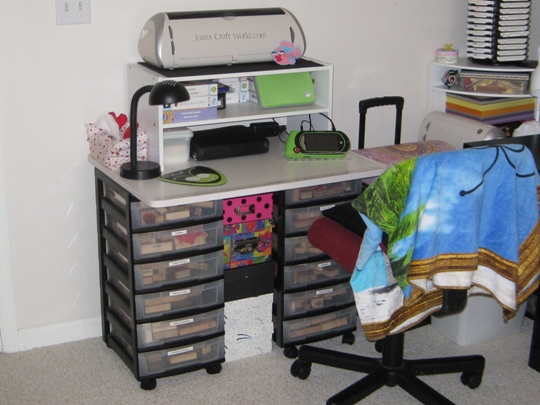 Believe it or not I still don't have all of my scrapbook cubes or all of my supplies they are on a second shipment from our move.  I can't wait for them to arrive so I can finish organizing everything.
The natural light in this room is great and it's also good that I have some lamps around too.
Well let me get back to setting up so I can start making my notes to all of our family and friends with the new stamp that my hubby got me for my birthday.  It's a We Moved stamp.  I will show it to you in the next post.
Make it a Great Day and don't forget to leave time to Craft!