Some more birthday cards to share.  This one is for my sister-in-law.  She is a very crafty person, so I want it to be just right.
Before I tell you about the card, I just have to tell you how great it is to have the new Cricut Gypsy.   I designed this entire card sitting on my sofa with my cat in my lap watching game 5 of the World Series.  How cool is that.  The only time I needed to go into my "craft world" is to put the paper on the cricut cutting mat, and cut the images out on my Cricut Expression cutting machine.  Sorry I just had to tell you that.
So, I decided to use the Cricut From My Kitchen cartridge, to make this card.
What I did first was decide what image I was going to use.  I picked the toaster.  I think it looked so cool and retro.
I used two different shades of pink paper from Stampin Up, pink passion and pixie pink for the toaster and for the piece of toast I used chocolate chip and blush blossom.  Then I used Basic Black for the wording and the base of the toaster and Whisper White for the accents.
The pink plaid paper is from DCWV – Nana's Kitchen Premium Stacks.  I just love this paper stack.  It goes perfect with this Cricut cartridge.
For the inside message I used the phrase Happy Birthday from the Cricut cartridge Beyond Birthdays.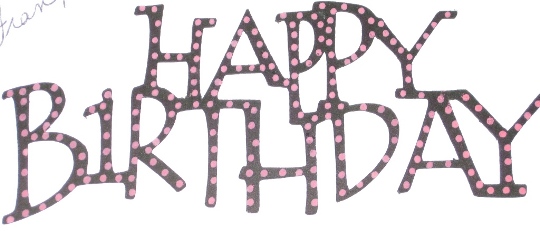 Then what I did was added some dots onto the wording using gerbera pink opaque marker from Martha Stewart for the finishing touch.
I put it all together using permanent adhesive tape runner and a dimensional square on the toast so it looked like it was really popping out of the toaster.
Wishing Fran a Great Birthday ~ Hope she likes her card, because I sure had a lot of fun making it.
Make it a Great Day and don't forget to leave time to Craft!