Hope you are having a great day ~ I need to make a handmade birthday card today for my dearest friend.  I wanted a birthday card that would make her smile, nothing serious just a fun card.  So I had a great Cricut Card Idea, using my Gypsy and that great cartridge download Smiley Cards, and I believe that I have a winner.  I also used my Cricut Expression machine to cut this tea cup out.
Look how cute this tea cup turned out.
I made a tea bag label with beige cardstock and stamped happy birthday with a Hero Arts stamp set. I layered the tea cup onto first lavender Stampin Up cardstock, that was then layered onto polka dot paper from  DCWV the summer stack paper pack, then one more layer on burgundy cardstock that I also used a border punch by EK Success that has birthday candles.  I used gold stickles for the flames of each candle and then also used Martha Stewart Opaque white marker for the base of the candle.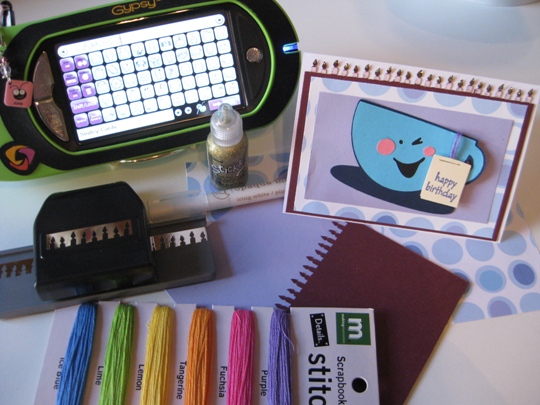 This is just another great Cricut Card Idea that is sure to be a keeper in your handmade card file.  You don't need alot of paper for this tea cup so you can use up some scraps that you have laying around if you like.
Make it a Great Day and don't forget to leave time to Craft!